Learning Self-Hypnosis To Reduce Anxiety Disorders
Self-hypnosis is a great set of powerful tools to feel good, help relaxation and reduce anxiety symptoms fast.
Learning self-hypnosis to reduce anxiety disorders is a great way to put you in control of your anxiety and stress symptoms.
With a little practice, you can learn to quickly relax, anytime anywhere, making your day enjoyable and calm.
How I used Self-Hypnosis To Reduce Anxiety?
Learning self-hypnosis was a major help for me, in overcoming my own anxiety problems.
As a child my anxiety was awful. I was always nervous, anxious and lacked self-confidence.
My anxiety was so bad that I developed an awful stammer and was unable to say words that began with S or K. My stomach always hurt and it made life painful.
Learning self-hypnosis was very beneficial for me.
I learned quickly to enter my trance state where I could feel relaxed, calm and confident. This self-hypnosis trance state helped me to reduce my anxiety symptoms down quickly and helped me to great sleep nicely.

Whenever I felt nervous, anxious or lacked self-confidence I could enter my trance state and change these feelings, just like flicking a switch.
How self-hypnosis helps our clients with anxiety disorders & symptoms?
Learning self-hypnosis skills will help you to control your emotions, feelings and thoughts.
Our anxiety clients state it helps you to step back from your normal reactions in life. Normally, where you would react to problems and people with symptoms of anxiety and stress, you breathe, bring on your good states and choose how you want to feel.

When I explain this to new anxiety clients they are often sceptical they will be able to do this. Usually, in just a few weeks or less, they are enjoying the process of learning self-hypnosis and amazed at how quickly it reduces their anxiety and stress symptoms.
Learning Self-hypnosis To Reduce Anxiety Disorders
The Healing Pool is one of our favourite self-hypnosis inductions.
Our clients love it. Our students love it as it is so powerful and gives fast results.
I suggest that you use this track daily and be aware it can take a few days to settle in for you. Use a set of headphones for best results.
With regular practice, self-hypnosis becomes easier and gives greater benefits over time.


WARNING!
This self-hypnosis induction is a powerful hypnosis track.
PLEASE REMEMBER; only use this track when you can focus on it.
Never use it when driving or using machinery.
Free Resources For Anxiety & Stress Disorders
If you would like lots of free resources that can help with anxiety and stress disorders, join the newsletter below. We will send you links to more self-hypnosis tracks, relaxation tracks, videos and useful techniques for anxiety & stress issues.
Your information is safe and you can leave at any time.
Popular Questions – Learning Self-Hypnosis To Reduce Anxiety Disorders
Can hypnosis cure anxiety disorders?

Hypnotherapy and self-hypnosis are great methods for reducing anxiety symptoms and give you back control over your emotions, feelings and moods. As part of The Anxiety Freedom Program, we use a number of techniques and methods to help you find your anxiety freedom.
Can hypnotherapy help with different types of anxiety disorders?
There are many names for anxiety disorders such as Generalised Anxiety Disorder, Socialised Anxiety Disorder, GAD, SAD, PTSD, OCD etc.
We prefer to look at the person and their symptoms and then work on these disorders accordingly.
We do find every person is unique and tailor the anxiety treatment as needed.
Is CBT Effective For Anxiety Disorders?
Cognitive Behavioral Therapy or CBT is another treatment for anxiety disorders. Most of our anxiety clients have tried other treatments previously, including cognitive behavioural therapy. Some state CBT has helped a little or not helped at all.
We prefer to address anxiety problems faster and avoid years of therapy.
Is learning self-hypnosis for anxiety disorders better than guided meditations?
Meditation can certainly help with anxiety as it is a good way to relax.
Self-hypnosis is a faster route to deeper relaxation and usually achieves much better results for clients. One of the reasons for this is that we do personalise the self-hypnosis tracks to each person when they work privately with us.
They ket to faster anxiety freedom is using techniques that are tailored to you.
Can self-hypnosis help with insomnia sleep problems?
Yes, self-hypnosis can be an easier solution to sleep and insomnia problems in many cases. It is important that we look at the cause of any sleep problems as there can be many reasons why insomnia occurs. Research states that hypnosis can really help sleep issues.
When you join the newsletter above you can access self-hypnosis tracks that can help insomnia sleep problems.
What is the first step to treating anxiety disorders?
The first step with any issue is to arrange a free strategy session by phone. This allows you to explain your anxiety issue and we can then look to see if our anxiety treatment program is suitable for you. This also allows you to ask your questions and understand the type of results you may experience.
You can arrange your free strategy session at the top of the page.
What sort of results can I expect with my anxiety issue?
Results do vary from person to person. Most clients experience their anxiety & stress disorder symptoms reducing quickly as they gain control over their emotions, feelings and thoughts.
We aim to help you experience anxiety freedom in 4 to 6 weeks. Some clients find their freedom sooner and others may take longer.
Anxiety & Stress Client Testimonials
NHS Dr Andrew kindly gave us a testimonial about our anxiety treatment and his experience.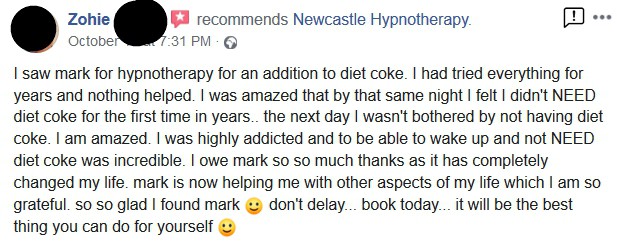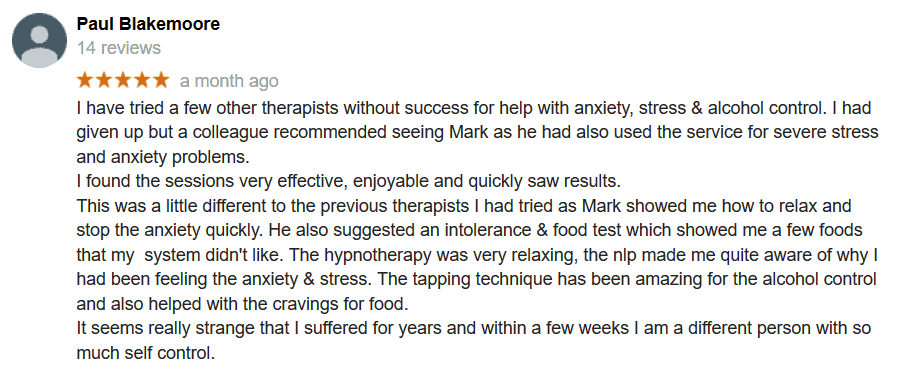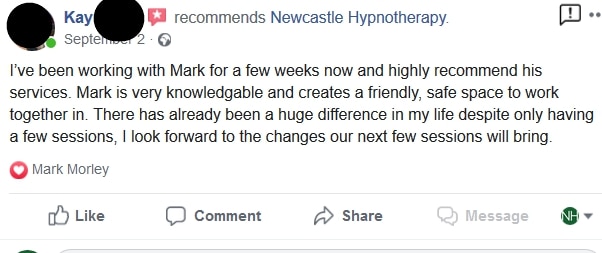 Arrange Your Free Strategy Session Today To Eliminate Your Anxiety & Stress Issues
Arrange your free session today to see how we can help you with your anxiety disorder or stress problem.

Join the newsletter for more free resources and help.

Follow Mark Morley Anxiety Expert & Newcastle Hypnotherapy