Reviews

Success Stories

Thank you to all of our customers & clients who have sent us a review.
We love your feedback, please keep it coming because it really helps others.

Dr Andrew's feedback on Newcastle Hypnotherapy.

Client Feedback by LN "I've had an amazing Christmas. I've been very relaxed compared to the last few years with a house full. Had a bit of a stressful morning yesterday, and I was able to dissolve my feelings pretty quick. I'm still taking my supplements and looking at ways to improve my diet. So overall still heading in the right direction."LN
Client Feedback by Carol "Hi Mark, just wanted to let you know that you have completely transformed my life! I am no longer arachnophobic, and yesterday in the office I was the one who came to the rescue, picking a spider up in my bare hands and putting it out the window. Just think that before my sessions I couldn't even say the word spider, or hear anyone else say it! That fear is completely gone and I cannot thank you enough."


Client Feedback by Joyce "Thank you for your help at a very difficult time in my life, you were extremely patient and it helped a lot. The weight loss continues and l am more positive. Regards Joyce"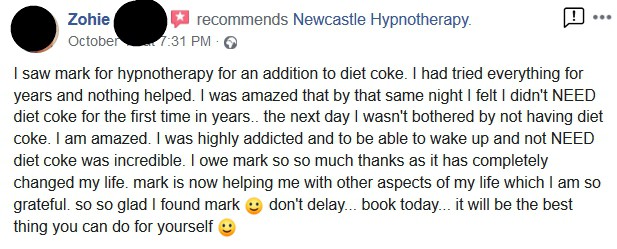 Client Feedback by Steve "Hi Mark, Just a quick email to thank you for the help you gave me. My problems with anxiety were hitting me hard as you know and I was concerned about losing my job because of it. Since our sessions, the anxiety has been under control and I now feel I have my life back.  I can't thank you enough. Steve "



Client Feedback by Gary "Mark is great. Got to the cause of the problem, felt a part of the solution and left really clear on what needed to happen – and to top it off I've been 'sugar-free' for over two weeks"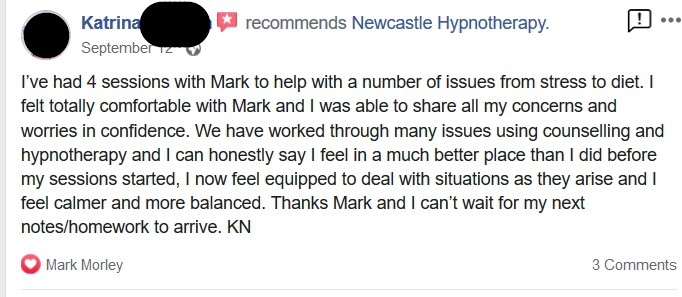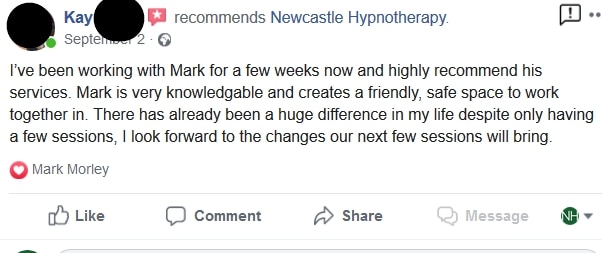 Client Feedback by Kris. "Mark is an excellent therapist. He has worked with me on 2 separate issues and each time Mark really took the time to listen to my issues putting me at ease and explaining which of his techniques and approaches I would benefit from. The first time we met he helped me to understand my self more in relation to a problem that my family had been experiencing. He gave me some tools which helped with my stresses and greatly improved my communication with my family. I can now say this situation is MUCH better and something that I am no longer losing any sleep over.
The second time that we met was the first of 2 hypnotherapy session which is my opinion was done very tactfully and skillfully and gave me results far beyond my expectations. Mark again took the time to sort through the things that I was worried about and showed me the crux of the issue of being overwhelmed with the possibility of losing my home due to a legal issue (I thought it was about something else when I first contacted him). Mark helped me by showing me how to gain more clarity and calmness when dealing with the companies involved. As a result of a MASSIVE reduction in my stress levels, many other parts of my life are now running a lot smoother and I am much happier in general.

I have previously been a patient in NHS counselling before for months and months, and I am still impressed at how Mark's work is still making such a huge difference in my life in such a short time."
Client Feedback by M A. "I love my sessions with Yvette as she is always so positive and quickly puts me at ease. She easily understands the situation and knows exactly what to do in order to resolve it. I have worked with a number of therapists in the past and Yvette outshines them by miles."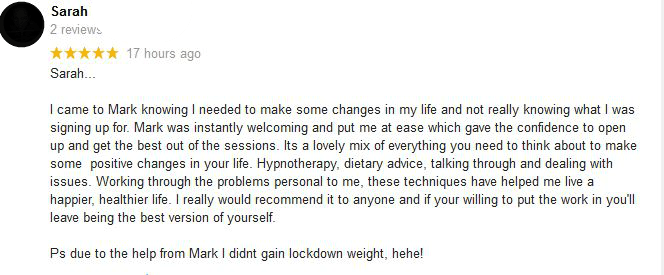 Client Feedback by Malcolm. "I have had several sessions with Mark, and, needing to build up my self-confidence, the difference has been quite something!! I have a stronger self-belief, feeling more able to take on new challenges. If you're looking to make changes in your life, but, finding that it's a challenge, not getting any further, then I recommend you book with Mark and see the difference for yourself."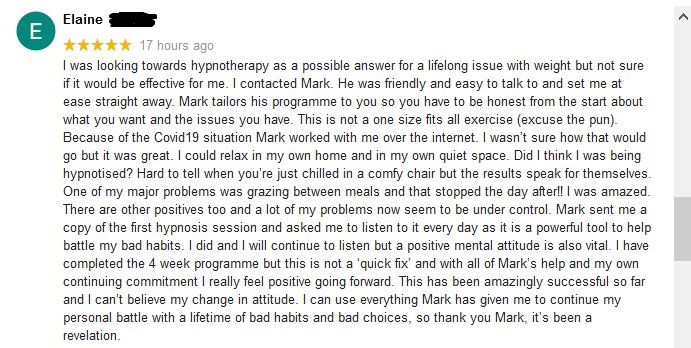 Client Feedback by Amber. Yvette has such a wonderful, calming influence. Her methods are personal to my needs and her treatments leave me feeling more relaxed and confident than I've felt in a long time.

Client Feedback by Micheal. Mark is one of those people who lives according to his beliefs and values, a strong value being to maintain good health; both physical and mental. For a potential client, this is a great thing as Mark 'walks his talk' and is consistent in word and deed. Mark has a desire to help people in need and this virtue extends itself to any client Mark works with. Mark is very ethical and always works to get the best outcome for any client he works with. Mark also has a positive outlook and this is something I would look for in a hypnotherapist/NLP practitioner, as it is said that the beliefs the hypnotherapist affects the outcome of the patient. Given that Mark is a skilled hypnotherapy practitioner and NLP Master Practitioner with a strong personal commitment to healthy, ecological living, a desire to help others and an optimistic outlook, he is ideally placed to help clients get the results they want.

Client Feedback by Lynn. I contacted Mark to resolve an uncomfortable digestive disorder, thinking this was a food intolerance issue. Mark quickly discovered it was a stress issue and the exercises we practised, quickly brought much-needed relief. Within 3 weeks the pain & discomfort had gone and I am now aware of when stress causes me an issue and what is needed to resolve it. Thank you again.
Client Feedback by S F. "I Met Mark initially at an event at 'The Vault' and found him to be a trustworthy genuine person, so I booked two Hypnotherapy sessions with him. I felt stuck with certain issues in my life and also had some trauma work to do. I had done a lot of work myself but the last little bit was still missing. With Mark's help, I found that missing bit and can now work with the tools that Mark offered to me. He introduced me to tapping (EFT) and NLP (Neuro-linguistic Programming) which are fantastic tools. Also, I can always use the hypnotherapy session that Mark recorded for me. Thank you so much, Mark! "
Google 5 Star Review